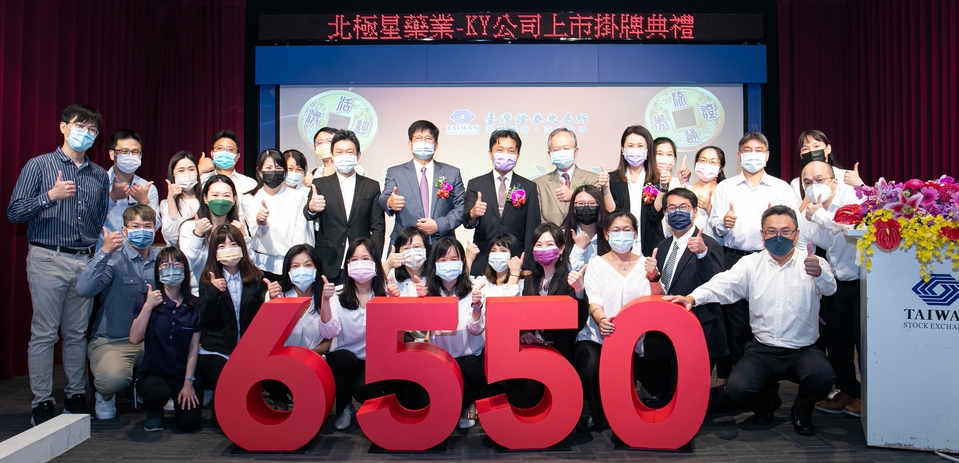 TAIPEI, Taiwan and SAN DIEGO, Calif., June 6, 2022 – Polaris Group ("Polaris") (TWSE: 6550), a multinational biopharmaceutical company focused on research and development of novel biological drugs for cancer and other metabolic diseases, today announced its listing on the Taiwan Stock Exchange and an underwritten public offering of 20,000,000 shares of its common stock at a public offering price of NT$82 per share. The gross proceeds from the offering, after deducting underwriting discounts and commissions and offering expenses, are expected to be NT $1.64 billion (approximatively US$57 million). Cathay and Fubon Securities are acting as joint book-running managers for the offering.
 " Polaris Group's leading biologic, ADI-PEG 20 is an novel arginine-degrading enzyme to starve tumor cells by arginine depletion which takes advantages over synthesis in amino acid formation between normal cells and cancer cells" said Shaw Chen, M.D.,Ph.D., chief executive officer of Polaris Group. "We plan to continue developing ADI-PEG 20 that leverage this unique mechanism of action to starve cancer cells, which can be applied to a variety of cancers, and we look forward to advancing our novel biologic by making use of combination with other chemotherapy drugs and radiation."
 In addition, Polaris Group have more than 20 years of manufacturing ADI-PEG 20 and specialized in E. coli process technology know-how on expression purification system for high level of recombinant proteins. "Polaris Group has offered CDMO services to its clients since 2019, and our strategy is to utilize the Vacaville manufacturing plant as pilot-run CDMO service provider that offer small scale services to U.S and European customers "said Howard Chen, chairman of Polaris Group. "We hope to replicate this business model to our new manufacturing facility in Yi-Lan, Taiwan in a much greater scale with mass production by 2024-2025."
 About Polaris Group
Polaris Group is a multinational biotechnology company focused on developing novel anti-cancer therapies. Our lead drug candidate, Pegargiminase (ADI‑PEG 20), is a biologic in late-stage clinical development for a wide range of cancers, including hepatocellular carcinoma, mesothelioma, pancreatic cancer, non-small cell lung cancer, melanoma, acute myeloid leukemia and others. Polaris Group is involved in every stage of the drug development process. Our subsidiaries harnesses structure-based drug design technology to create novel oncology therapies, conducts clinical studies at top-tier cancer centers worldwide and operates cGMP Production Facilities in Northern California and China.